RELIFE generates a synergistic stimulus between laser, endogenous radiofrequency and transdermal delivery of water-soluble active principles, specific to hair regrowth and hair care.
RELIFE reads and quantifies the energy (in Joule) emitted and absorbed by all the biological substrates of the person undergoing the treatment, providing a real-time feed-back to the operator.
RELIFE uses and displays two basic parameters to manage and understand tissue-induced effects. The domain of SIVSEA and SCE are part of the industrial patents owned by TECAR SIN.
RELIFE RELIFE is the only system that can display and store each patient's clinical data before and after treatment with W200 handpiece supplied.
RELIFE is a painless and scientifically proven stimulus that combines LLLT and TRANSDERMAL DELIVERY methods.
1
SIVSEA & SCE
RELIFE has the revolutionary SIVSEA/SCE system that allows to view and control in real-time the energy transferred to the tissue and to calibrate in real time the correct energy dose to be delivered.
2
Combine emission of Transdermal Delivery and LLLT
The combination of LLLT technology and transdermal delivery has enabled Winform Medical Engineering to develop a revolutionary method for a rapid action targeted to stop hair thinning as well as nourishing and restoring their shine.
3
Digital scanning system
Digital scanning system with 200X magnification to accurately view the condition of the scalp and hair shaft. Thermal and moisture sensor complete the scalp screening
RELIFE is made of biocompatible materials to ensure the maximum safety to operator and client. The ceramic-paint is hygienic and easy to clean.
The W200 handpiece allows to scan the scalp making a picture and a detection of the temperatur, providing the operator with the possibility to calibrate the treatment on the actual needs of the customer. At any time, before, during or after treatment, the operator can make a detection of the scalp and save it in digital format.
The stand on wheels, made of sophisticated and modern design, allows the operator to move simply RELIFEwithin the center thanks to the lightness achieved through the use of lightweight but extremely strong materials.
Display
10.2" TFT color display that allows the operator to view all the useful parameters during the treatment.
The software is intuitive and allows a quick setting of the treatment parameters.
Safety guaranteed
Security is guaranteed by a "watch dog" system that constantly monitors the software working properly.
Data treatment storage
Photos storage system for the creation of a customized client library, accessible on any PC.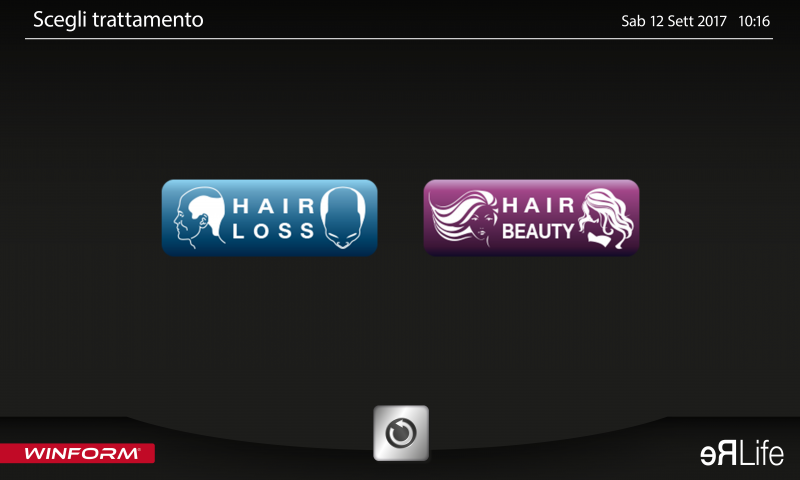 Radiofrequency source

1 RF

Aesthetic device classification

Complies with Interministerial Decree No. 206 of 10/15/2015, Italian Law