YAG 1064 nm is ideal for regenerative stimulation of cartilage tissue, for chronic diseases, osteoarthritis and tendon inflammation. Regenerative therapy is a long process where the laser plays an important role on cellular stimulation.
HighTherapy stimulating energy transfer enables YAG Therapy One to perform therapeutic cycles of medium average with high performances. UltraPulsed mode allows to obtain very low average powers with very high peak powers, with a deep tissue stimulation.
1
Laser source self-diagnosis system with feedback to the operator
The system verifies in real time the efficiency of laser sources, to ensure efficient and effective treatments. Any anomaly is reported to the user in real time.
2
Cooling system
The device has an innovative cooling system, designed by Winform Medical Engineering, which allows to dissipate the heat from the sources without the need of liquid radiators, with complex handling and maintenance .
3
Removable optical fiber
The laser emission is conveyed on a liquid optical fiber that allows to radiate effectively a large surface avoiding the losses caused by the use of defocusing lenses.
The Zoom handpiece allows the operator to personalize the treatment area by focusing energies at various diameters, covering surfaces from 5 cm² to 16 cm² with 4 steps.
YAG Therapy Sport is manufactured with biocompatible materials to ensure the maximum safety to operator and patient. Due to the particular type of painting, it is easy to clean and sanitize.
The sophisticated and modern design of the stand allows YAG Therapy Sport to be moved simply within the center, thanks to the lightness achieved through the use of lightweight but extremely strong materials. (OPTIONAL)
Display
10.2 "TFT color display that allows the operator to view all the useful parameters during the treatment.
The software is intuitive and allows a quick parameters setting.
Customization
The operator can select preset programs or create and save its own customized programs.
Safety
Security is guaranteed by a "watch dog" system that constantly monitors the software working properly.
The software design was carried out in accordance with IEC 62304:2006, to ensure stability and safety.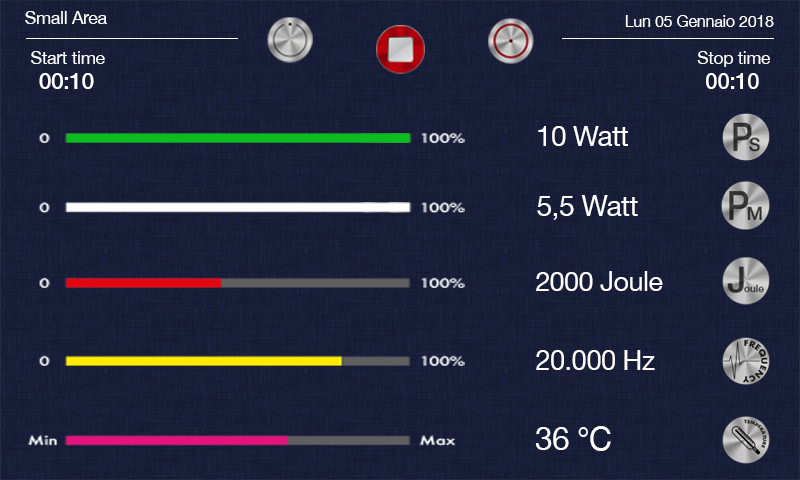 Essential performance

2750 mJ

Source Type

GaAIAs semiconductors

Removable optical fiber

Yes

Medical Device Classification

Class IIb according to 93/42/CE